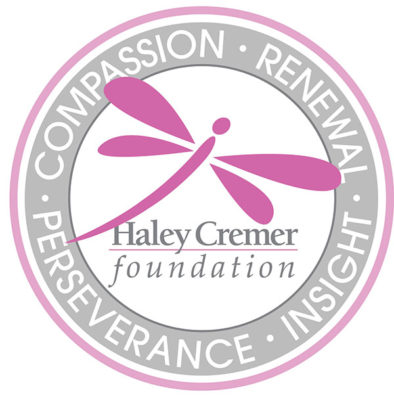 On behalf of Marc, Ivie, Morgan and the Directors and Trustees of the Haley Cremer Foundation, thank you all so very much for remaining an integral part of our collective efforts to honor Haley's legacy.  Your participation, spirit and generous donations provide incredible motivation for all of us as well as a constant reminder of why we created this Foundation. The Haley Cremer Foundation truly embodies the spirit of the beautiful young woman we tragically lost more than 5 years ago. The Foundation is preparing to enter into our sixth year – a major milestone for a small 501(c)(3) organization. As our fifth year comes to a close, we'd like to share some reflections on the first five years.
Shortly after Haley's passing, we came together as a collection of Board members with different connections to Haley and her family. Together, we brought a wide range of perspectives and ideas to guide the direction of the Foundation and where we felt we could have an impact. What we shared in common was our commitment and dedication to Haley. We took every opportunity to pursue a path we thought would align with and honor who Haley was, and where she may have put her energy were she still with us. The Foundation has grown and evolved, all the while maintaining a consistent focus on how to best honor Haley's legacy. Five years in, we are no less dedicated, we have re-doubled our efforts, and are now stronger than ever.
Over the years we planned and organized several successful fundraising events including the "Rock the Room" event hosted at the House of Blues in Boston and this past summer we held our fifth Golf Classic and Dragonfly Dinner Fundraiser, which has also become our annual premier event. We added board members who brought fresh insights and abilities in fundraising event planning and communications that elevated and enhanced the work of the Foundation.
As the Foundation matured, we gained insight from our experience with fundraising events and evaluated the impact of our support for a broad range of student scholarships and health and human service organizations. We came away with a renewed determination to strengthen our focus and to put forward a sharper, more compelling mission for the Foundation. This energy gave way to the identification of our core values, a strengthened mission statement and four clearly aligned prioritized areas of support.  Our new logo, designed by our fellow amazing Board members, Sarah and Lauren, truly captures Haley's attributes of Compassion, Renewal, Perseverance and Insight. These attributes serve as the pillars of our Foundation. Additionally, in almost every part of the world, the Dragonfly symbolizes change, transformation, adaptability, self-realization, transcendence and renewal following hardship. We believe the Dragonfly is evocative of Haley's spirit and use it throughout our materials and events to reflect these powerful symbols.
The tens of thousands of dollars in grants and awards the Foundation has awarded based on your support continues to make a major difference in the lives of many. The Foundation's focus on our mission has resulted in:
The addition of expanded programs at Children's Friend – The Carriage House Grief Support Center and Jeff's Place, enabling additional support groups and bereavement services for families in need.
Critical funding for Dr. Mehra Golshan's research and trials at Dana-Farber in support of highly advanced imaging and surgical techniques for treating patients with breast cancer.
Financial awards to the APTA of MA and college students majoring in physical therapy and associated studies. Physical therapy was one of Haley's true passions and the Foundation wanted to carry on that part of Haley's legacy by helping to support physical therapy students in their endeavors by funding learning at conferences and clinical experiences. Since inception, the Foundation has directly impacted over 230 students.
Scholarships to high school seniors who exhibit Haley's altruistic approach to life and are seeking to further their education.
Additionally, we have been fortunate to provide considerable annual financial contributions to the Making Strides against Breast Cancer organization.
We take tremendous pride, which we share with all of you, that our efforts have resulted in grants and awards to these incredible causes in excess of $200,000.
Haley's passing has left an irreparable hole in our hearts.  We miss her each and every day.  While our sadness will last the rest of our days, we take tremendous solace in channeling our pain into making tangible, positive impacts to the lives of so many others.  Above all, we continue to honor Haley's legacy and keep her warm, generous spirit alive.
Thank you and Happy New Year.
Best,
The Cremer Family and Haley Cremer Foundation Directors and Trustees