Yale New Haven Health – Smilow Cancer Center
The Haley Cremer Foundation proudly supports the advancement of Dr. Mehra Golshan's breast cancer research at the Yale New Haven Health – Smilow Cancer Hospital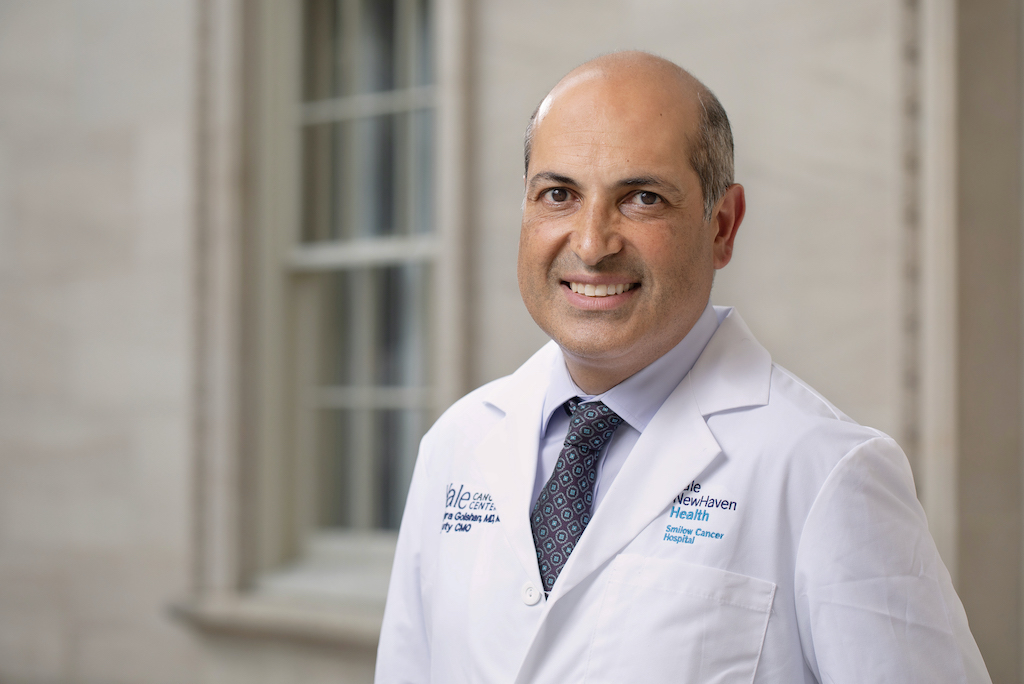 Biography
Mehra Golshan, MD, MBA, is a cancer surgeon and a nationally and internationally recognized leader in breast cancer treatment and research. In addition to caring for patients, he serves as Deputy Chief Medical Officer for Surgical Services and Director of the Breast Cancer Program for the Yale Cancer Center, Smilow Cancer Hospital, and Smilow Cancer Hospital Care Centers.
Dr. Golshan is a leader in the research with over 125 peer reviewed publications. He has led numerous Phase I, II and III clinical trials and translational science innovations impacting the treatment options and outcomes for women. He is an innovator in tailoring surgery and therapy for women with early stage breast cancer with funding support from the Breast Cancer Research Foundation and National Institutes of Health. He is the principal investigator of several phase II trials aiming to reduce the need for second surgeries or re-excisions in women with breast cancer, one of which uses innovative image-guided operating room capabilities to capture and remove all residual tumor utilizing MRI and mass spectrometry which is used at Yale's hybrid operating room.
Dr. Golshan prides himself on being an educator having trained and mentored over a hundred breast surgical fellows as well as international surgeons. He has lectured and taught surgeons, trainees and students nationally and internationally in the field of oncology and breast cancer treatment.
Dr. Golshan is a Board Member of the National Accreditation Program for Breast Centers (NAPBC), Chair of the Society of Surgical Oncology Corporate Relations Committee, Vice Chair of the American College of Surgeons Committee on Interprofessional Education and Practice, and Chair of the American Society of Breast Surgeons Question of the Week Committee.
Dr. Golshan completed his fellowship in breast surgical oncology at Northwestern Memorial Hospital. He earned his Medical Degree from Case Western Reserve University School of Medicine and an MBA at Massachusetts Institute of Technology, Sloan School of Management in Cambridge Massachusetts.
Prior to joining Yale, he spent 17 years in Boston at Harvard's Brigham and Women's Hospital, Dana Farber Cancer Institute where he was the inaugural and incumbent Dr. Abdul Mohsen and Sultana Al-Tuwaijri Distinguished Chair in Surgical Oncology. He also served as the Director of the Breast Surgical Oncology Fellowship at the Dana-Farber Cancer Institute/Brigham and Women's Hospital/Massachusetts General Hospital and was an Associate Professor of Surgery at Harvard Medical School.
Dr. Golshan's approach to breast cancer treatment is through a specialized team approach. For each new patient, Smilow brings together a team of medical oncologists, radiation oncologists, reconstruction surgeons, pathologists, genetics, breast imagers, radiologists, program nurses, and a robust clinical research program. "I work closely with so many colleagues dedicated deeply to treating and curing breast cancer who inspire me to be a better physician, scientist, and person every day."